Plenty of procedures and protocols are in place in our nation's schools. Nearly everything has a system in place that helps bring structure to all aspects of education. When a school day becomes chaotic, however, and an emergency arises, adhering to the in-place policy for response and communication can become difficult or impossible. Below is a collection of advice and insight from educators on how to handle emergencies in school.
1. Planning & Preparation
It's important to have a plan in place the entire school building is familiar with and a part of. Planning for emergencies is like insurance; something that has to be done upfront and hopefully never acted upon. Emergencies in schools can range from natural disasters to human-centered situations. Each type of emergency needs to have its own contingency plan. How to respond to a tornado warning is different than responding to an intruder.
The emergency response plans should be revisited every school year and updated as necessary in light of feedback post-event, should one occur.
2. Define Roles & Responsibilities
Identify your chain of command and make the roles and responsibilities very clear throughout staff members and teachers. Every leader should understand his or her role and who is responsible for making decisions in emergency situations. How information is distributed during an emergency and how communication is supported is nearly as important as the emergency plan itself.
There's no such thing as over-preparation or over communication. Encourage your team to do both, and do it often. A safe school is the best school.
3. Consider Prevention Tactics
Of course, schools cannot prevent natural disasters, though many can be predicted, giving schools districts enough time to evacuate and follow safety precautions outlined in the emergency plan. Assessing risk before it impacts a school is a prevention tactic that can help support emergency response plans. Consider the building's structure; newer schools usually have the benefit of being the most prepared due to construction code. Some older buildings will need a different angle of predicting what could happen in case of a fire, tornado, or earthquake.
Evacuation and lockdown drills are commonplace in schools for a reason — faculty and staff need to lead students through established plans to secure safety regardless of perceived threat. Post maps for evacuation throughout the building that help enforce plans and give emergency responders a point of navigation.
4. Foster Trust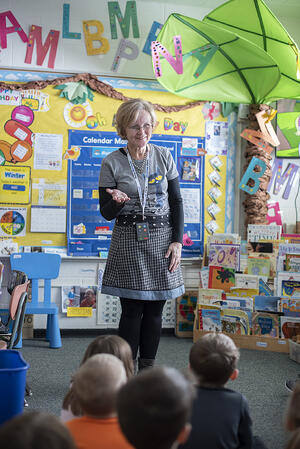 Depending on the age of students in a building, developing a relationship with emergency responders can be beneficial to help bridge the gap between schools and the community. Media and word-of-mouth can distort the perception of who to trust in emergencies, giving children an unclear sense of how to follow directions in times of chaos. Consider hosting police officers, firefighters, and EMTs as part of your school's emergency preparedness. Engaging students with emergency workers before one strikes can be beneficial in a time of crisis when time is of the essence.
Likewise, your school should have an emergency team or chain of command and it might make sense to introduce students to this part of the response team, too. Clarity in emergencies and trust is paramount to safety and security to students — foster trust between students and adults in charge to enforce both.
5. Choose a Smart Alert System
Technology is a wonderful tool in the world of school emergency systems, and absolutely necessary. An alert system should be in place in two separate ways. One, it should unite a school's internal team of administrators, teachers, and staff in order to communicate effectively. A system that can integrate seamlessly with other solutions in place as well as be a standalone system non-reliant on a school's network or WiFi. It should be simple yet significant. To that type of alert system, Badge Messenger created our proprietary school messaging system that is worn in conjunction with a teacher's credentials badge. It's programmed with a specific set of commands that dispatches the main system to communicate the need at hand — whether major or minor.
The second alert system is the type that all schools already have in place to communicate district-wide with parents and guardians. This system is how information is disseminated that offers mass distribution of a general message each family should be made aware of.
6. After the Crisis Planning
Emergency preparedness is usually focused on everything leading up to the emergency itself. In the event that a school has to enact a safety plan, there's a crucial opportunity to gain insight into how the crisis was handled and what needs to happen next. Emotional support might be necessary for the aftermath of an event for students, staff, and parents alike. How to acknowledge moving forward while reviewing how the situation was handled is integral to your school's entire emergency response plan.
Engage faculty and staff to gain perception of how the plan was carried out and what could be improved or reconsidered. And, timing is important. Conduct the necessary post-mortem meetings as close to the emergency as possible to ensure the event is fresh in the minds of those involved. This information might be necessary to share with authorities, families, and even the media, and developing a plan for the aftermath of emergency situations is important.
In the Event of an Emergency
No one wants to consider what happens in emergency situations that affect schools. For a majority of schools, they likely won't have to. That doesn't mean there isn't a need for an extraordinarily thorough and robust emergency plan. Considering every angle of how to plan, prepare, carry out, and evaluate plans within your schools is a high priority for administrators across the country.
Communication is the lynchpin in school day activity — in ordinary days and days when emergencies occur. Consider how your school or district is equipped to handle every possible scenario. What is missing? What could use support? Answer these questions and bolster your emergency plan before the next school year commences.